There is something almost pure, natural and honest about base metals like copper. Perhaps it's because copper is such a good conductor of heat and electricity that make you slightly tingle when you hold it. Certainly, the feel and look of copper seems to inspire a 'back to basics' feeling, and that extends to the kitchen. Copper kitchen appliances and accessories are, we think, an emerging fashion. Copper is everywhere, and coffee related copper-ware looks (and feels) fantastic.
You too can be a trend-setter!
Here is a selection of copper coffee-ware for you to enjoy:
Barista & Co. Copper 3-Cup Cafetiere
£30 from major UK retailer
This 3-cup cafetière an impressive kitchen showpiece — perfect for adding a bit of chic to your morning routine, for dinner parties or for entertaining visitors.
Hario Copper Swan-Neck Kettle
£120 from major UK retailer
A beautiful cup of coffee needs precision, and that's exactly what you get with the swan-neck kettle. Is this the most stunning kettle ever?
Copper Coffee Scoop
£15 from major UK retailer
This stylish copper coffee scoop holds precisely the right amount of grinds for one perfect cup. Simple as that.
Large Copper Coffee Caddy
£20 from major UK retailer
This beautiful copper caddy is capable of holding up to a kilo of coffee beans.
Copper coffee dripper
£60 from major UK retailer
This 8-cup cafetière is just the thing for when you're expecting company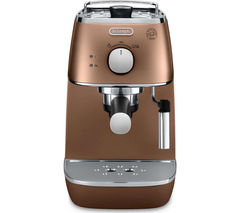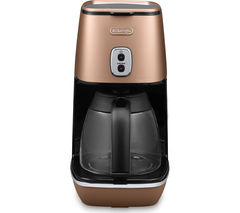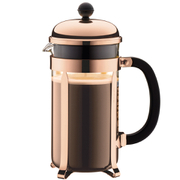 Some of the links on this page may be affiliate links. When you buy through those links we may receive a commission for the sale. This has no effect on the price for you. For example, as an Amazon Associate we earn from qualifying purchases. We encourage you to review and carefully consider what you are buying. We try to help by giving tips and information, but buying decisions are yours.